PARIS – Chinese smart EV startup CHJ Automotive and French time share rental operator Clem signed a cooperation intent at the Viva Technology 2017 conference here on June 16 where the two partners plan to set up a joint venture in Paris to provide free floating car sharing services.
The new service will be offered under a new brand using CHJ Automotive's SEV (Smart Electric Vehicle) as a basis for the fleet.
The signing is significant since CHJ Automotive, which was founded by Li Xiang, founder of Chinese internet vertical portal Autohom.com, has yet to build a sing car.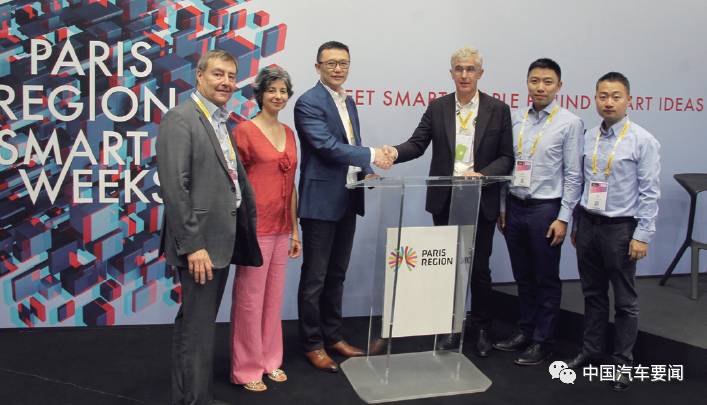 CHJ Automotive plans to create a new smart mobility service platform dedicated to this service where users can register, find, lock and unlock, pay for a vehicle and consult service all through a smart phone APP. Operators can monitor vehicle conditions in real time to manage and charge the vehicles as needed through data mining and cloud computing features from the platform.
The SEV is a two-seater smart electric transportation tool for short distance travel based on Europe's L6e (light four-wheel vehicle) standards. Four of these vehicles can be parked in a standard parking space and is ideal for mobility needs in European cities such as Paris which often have tight streets. Its flexible battery charging/swapping capability and smart connected system provides rental operators with efficiency. It is equipped with two sets of removable battery packs for charging or swapping and 4G connectivity that help transmit vehicle operation and user behavior data to the cloud. The operating team will provide timely battery swaps when electricity runs low so that sharing efficiency can be optimized.to get more information, please click "read more" to subscribe.
---
The above article appeared in the July 2017 (Vol. 12, No. 7) issue of China Automotive Review (CAR), our monthly tabloid magazine in English exclusively focused on the Chinese auto industry.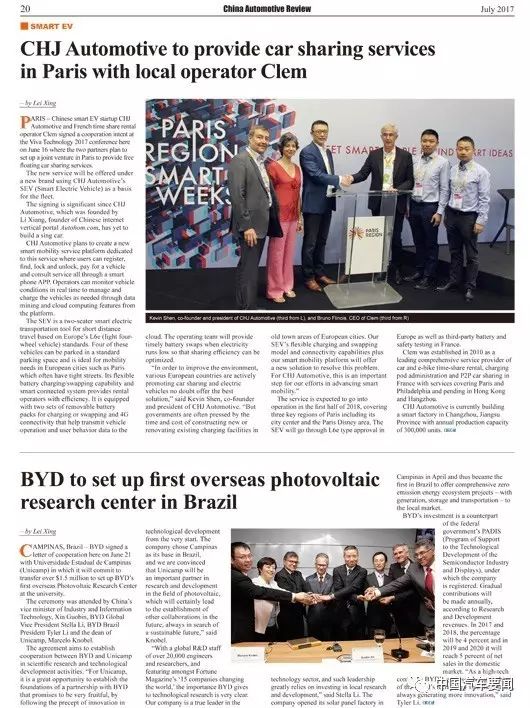 ? 本刊所有图片、文字及版式版权均为【中国汽车要闻】(China Business Update)所有,未经授权许可,不得复制或用作其它商业用途,其他网站及平面媒体如需转载,须注明作者及出处。